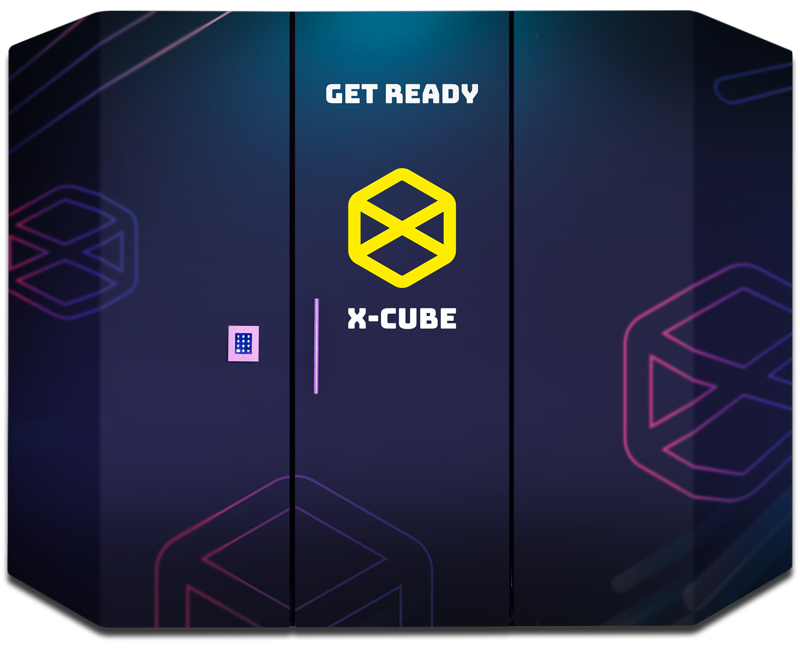 ABOUT THE X-CUBE
Welcome to the future of immersive entertainment – the X-Cube! Combining the thrill of an escape room with the excitement of a video game. Adventure awaits as you step into a 16-square meter room packed with the latest technology.
At the heart of the X-Cube lies versatility. With our diverse range of experiences and a commitment to future development, our games captivate and engage audiences of all ages, from kids to adults. Get ready for the ultimate adventure where the lines between reality and virtual worlds blur and unforgettable memories are created. In the X-Cube, you can play with up to 6 players simultaneously, each with their own controller to enhance the experience. You can enjoy multiple experiences within the X-Cube with a selection of 6 different games currently, and more coming in the future. 6K resolution and 5.1 dolby surround
Experience cinematic immersion with a stunning 6K resolution touch screen and the rich audio quality of 5.1 Dolby Surround Sound. High revenue per square meter
The X-Cube occupies a space of 16 square meters, boasting an array of modern technology, including a massive 98-inch touch screen and much more. No operator is required to play the X-Cube. Once the game begins, everything seamlessly operates on its own. no reset time and
remote access
The X-Cube is operational 24/7 with no downtime. In the rare event that any issues occur, our team can resolve them remotely.
OUR EXPERIENCES
Explore our selection of captivating games, each designed to offer a unique adventure within the X-Cube.  There's an exciting experience for every taste and age group.